(12-May-2023) TOPPERS NEWS
Master Pranjul Yadav of class X got 97.2% marks and Miss Vaishnavi of class XII got 98.8% marks in CBSE Board Exam 2022-23. Both students secured first place in the district in their respective classes.
(12-May-2023) GALAXY OF OUR LUMINOUS STARS IN CLASS X 2022-23
Once again Students of class 10th make us proud by giving excellent result and added one more badge of glory in success story of the school. Our Student Master Pranjul Yadav scored 97.2% and topped the City in all 6 subjects. Our 43 Students have scored more than 90% of Marks. 83 Students have scored between 80% to 90%. Our all 185 Students passed throughout first Division. Our overall Result is 100% and best in city. Since our first batch in 2011 we are giving the toppers and best Result in the City. We want to congratulate all our students, Parents, Teachers, Staff and all well wishers for the Success.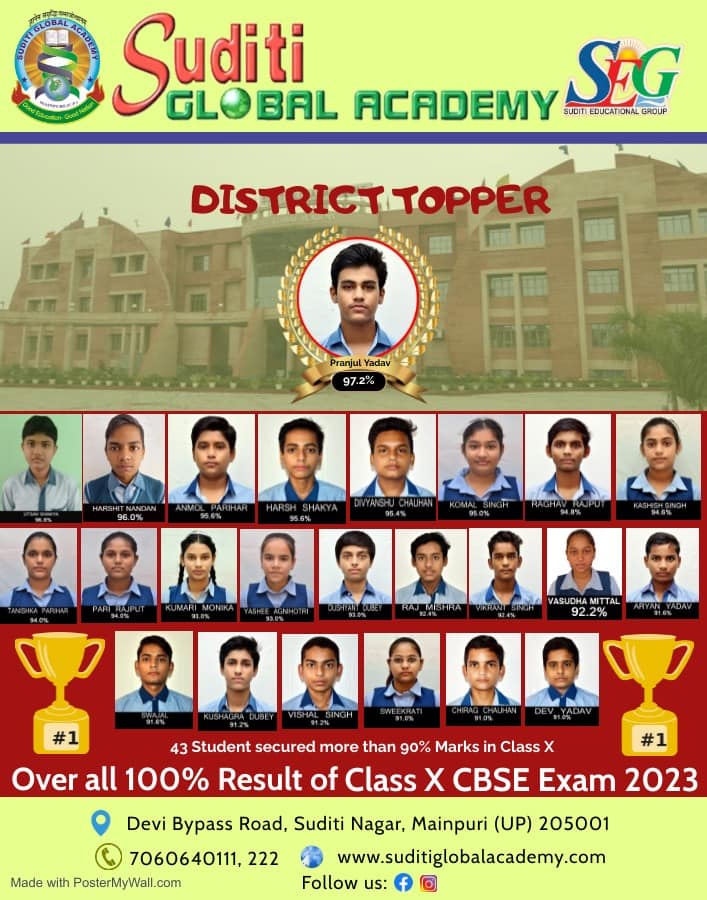 (12-May-2023) GALAXY OF OUR LUMINOUS STARS IN CLASA XII 2022-23
Carrying forward the rich legacy of excellence in education, SGA has once again created history and has become the trendsetter with its dazzling performance in the Grade XII examinations, the top 3 of Mainpuri are Suditians. Our student Vaishnavi has secured the 1st position in the district with 98.8%, Muskan has secured 2nd Rank in the city with 98% and Priyanshi Yadav secured 3rd rank in the city with 97.8% in CBSE board. The continuous hard work, sincerity and dedication manifested by the students along with the indomitable spirit of the teachers and the support of the parents have led us to attain accolades and have made us the harbingers of success for which our school has come to be known. A total of 56 students secured more than 90% marks. Out Of 235 students, 234 cleared the exam with First Division. 6 out of 10 of the ranks have been secured by Suditians which includes Top 3 Heartiest congratulations to all ! Enjoy the glimpses.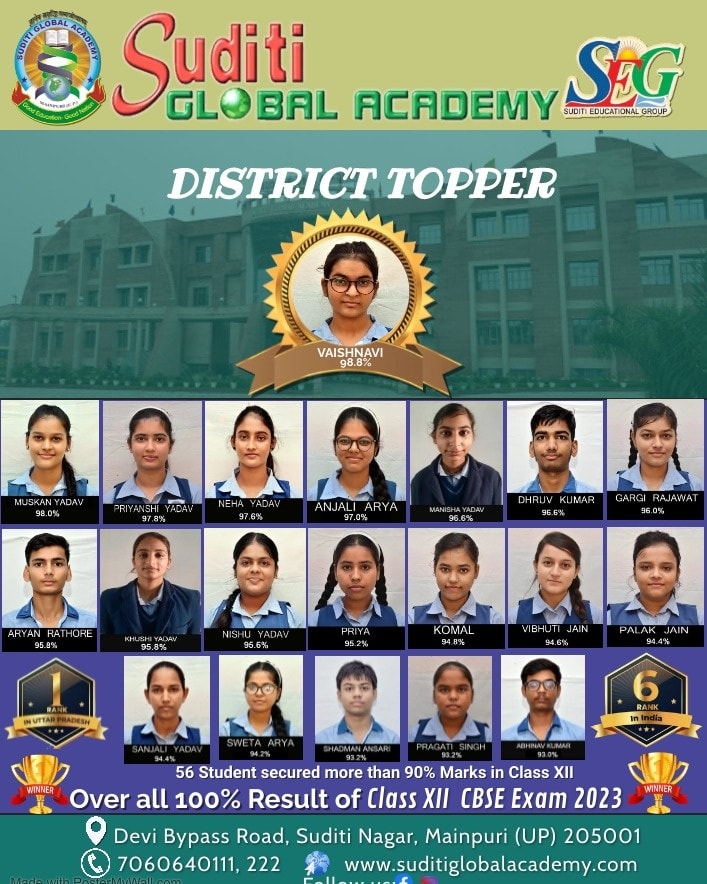 (7-Sep-2022) LONGEST NATIONAL FLAG ON WHEELS TRACK
THE WORLD WIDE RECORD OF LONGEST NATIONAL FLAG ON WHEELS TRACK IS ACHIEVED BY SUDITI GLOBAL ACADEMY ON 23rd OF AUGUST 2022. SUDITI GLOBAL ACADEMY ORGANISED A TIRANGA RALLY IN MAINPURI, UTTAR PRADESH ON 10th AUGUST 2022 DUGING AZADI KA AMRIT MAHOTSAV FOR THE OCCASION OF 76th INDIAN INDEPENDENCE DAY, WHERE THEY DISPLAYED THE LONGEST NATIONAL FLAG (MEASUREMENT LENGTH- 1008 FEET & 3 INCHES, WIDTH 8 FEET) ON WHEELS TRACK AND HAS SET A RECORD FOR THE WORLD WIDE BOOK OF RECORD.